Famous Kikuyu Benga musician Jimmy Walter Githinji known for his stage name Jimmy Wayuni has died after being involved in a greasly road accident at Kahawa Sukari near Githurai 45 in Nairobi.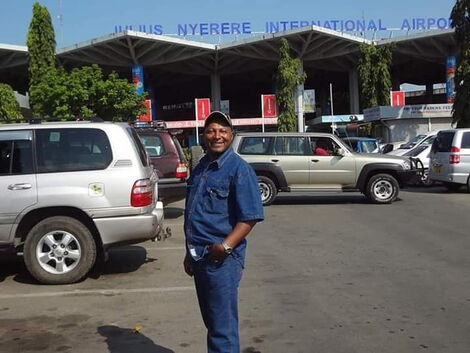 Jimmy Wayuni died on Tuesday night after his car rammed into a lorry as he headed to Nairobi from Ruiru, Kiambu County.
Wayuni, a retired Kenya Revenue Authority (KRA) deputy commissioner was going to drop off a fellow musician when the fatal crash occurred. He sustained serious injuries and was rushed to St Joseph Hospital where he passed away while undergoing treatment. Wayuni's body was transferred to Kenyatta University Funeral Home.
See also: Felicien Kabuga: Rwandan genocide fugitive arrested 2020
Jimmy Wayuni's  Bio
Unknown to most, in 2009 Wayuni was actually working as an assistant commissioner at the Kenya Revenue Authority (KRA) in charge of policy formulation.
He revealed during a past interview thta his work was mainly to draw up, implement and effect all policies related to tax regimes.
"It is all about separating the two and allocating my employer full hours before venturing into my other life," he added responding to whether his day job conflicted with the rigorous demands that come with the music business.
Interestingly, he also ended up serving at KRA with his greatest musical influence and mentor, CDM Kiratu.
"It was Kiratu who played the pivotal role of honing my musical skills and, coincidentally, I was to later work with him at the KRA," the benga maestro once revealed.
Having discovered his rare gift at the tender age of 10, Jimmy Wayuni immediately went about honing his craft by joining the church choir and enrolling in as many school music competitions as he possibly could.
1975 to 1985 can be described as the golden decade when it comes to the Kikuyu music scene. This was the period when some of the greats burst into the scene.
The likes of Simon Kihara alias Musaimo, the late John De'mathew as well as John Ndichu and his brother Joseph Wamumbe to name but a few.
It was during this same era that the late Wayuni also threw his hat into the ring in a band dubbed Kuhurika Brothers, with his first-ever recording being Kairitu Roiko back in 1978.
There were no USB sticks or even Compact Discs (CDs) at the time, all his music was recorded on vinyl discs, a true son of a forgotten era.
His music opened him up to the entire world. He entertained fans in variuos countries including Burundi, Rwanda, Tanzania, Uganda, USA, Japan, Thailand, South Africa, Mauritius, Seychelles, and the United Arab Emirates.
Wayuni's gift for the arts was undeniable that in 2007, he was flown to America for the New York Film Academy where he was part of an elite group of artists that were taken through a film workshop at Disney-MGM Studios.
His favourite regional musicians included the legendary Samba Mapangala,  Jimmy Moni Mambo and the Kinyonga Brothers.
Wayuni's tragic demise has robbed the country of an icon of his time, a Hall of Famer and a truly gifted musician, who in his later years dedicated himself to moulding younger artists to grow their careers.
Deputy President William Ruto best captured the very essence musical maestro in his glowing eulogy.
"Through his numbers, Jimmy Wayuni advocated for social justice, condemned bad governance, glorified good leadership and worked towards bringing people together. We will miss his humility, resilience and focus.
Walter Githinji 'Jimmy Wayuni' was a diligent, prolific, creative and talented musician with a melodious voice that made his songs such as Airítu a Ruiru, Mama Sululu, Wayuni Útúire Uhenagia, among others, outstanding," reads DP Ruto's dedication in part.
May his soul rest in eternal peace.